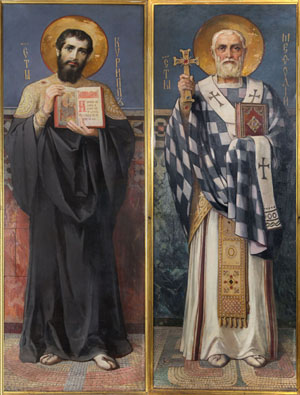 The Cyril and Methodius Research Center (KMRC) is the only scientific institute in Bulgaria and abroad, entirely focused on a comprehensive study of the work of the Slavic first teachers St. Cyril and Methodius.
Unlike similar institutes in the country and abroad, which study individual countries of Cyril and Methodius, KMNC considers the problems comprehensively, applying simultaneously linguistic, literary, textological, art, paleographic, cultural and historical approach.
KMNC cooperates with a wide range of Bulgarian and foreign specialists and institutions, publishes their contributions in the journal "Palaeobulgarica" ​​and the series "Cyril and Methodius Studies". In this way, in practice, he became the coordinator of research in the field of Cyril and Methodius.